Data Entry
From VCAT WIKI
Entering Assessment Data into VCAT
VCAT is essentially a data base that is home to a tremendous amount of valuable student data within your district. In order for VCAT to be a useful tool for examining student data, the data must be entered into the VCAT system in a timely manner. To enter data into VCAT just follow these simple steps:
1. After logging onto VCAT, select the Students.
2. Select the Information you wish to enter data for.
3. Click on Enter Data, a calendar will show up. Select the assessment date and click the OK button.
4. You are ready to enter the data!
3 Data Entry Modes
(1) All Students
By default, you are in the 'All Students' data entry mode, which gives you the full list of students from your selection in the left column, and a criterion per column.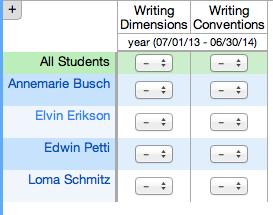 (2) Rubric Mode
If you click on one student name, you will go to 'Rubric' Mode. It will display the rubric for one student at a time - criteria listed in a column on the left with the possible values on the right. To enter data in this mode, simply click on the value to select. Clicking once more will unselect the value.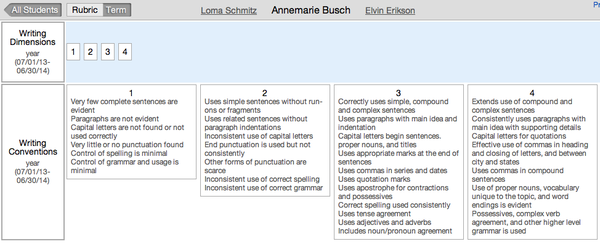 (3) Term Mode
From the Rubric Mode, you can go to the third mode, Term Mode, by clicking on TERM.

- If there are boxes with up/down arrows, click on the arrow to get the drop-down menu of the possible values, then click on the value to select. The data saves automatically. You can also use the 'tab' to go from one box to another and type in the value. If the value is out of range, it will not accept it and will show as if nothing has been entered.
- If any scales are associated with the piece of data you just entered, each of the scales will show up where you entered the data and the Key to each of them will be displayed at the bottom of the window.
- If there are text fields, type in your notes/comments. When you are done typing, a little green check will appear shortly to let you know that the text you just entered has been saved.
- If there are small square boxes, clicking in it will select it and place a check mark. Clicking once more will remove that check.
- If there is a box like a text field but a numeric value/score needs to be entered, type in the score. If the score you typed is out of range, a message will warn you so you can retype the correct value.