Selecting Information
From VCAT WIKI
Single Selection
1. Click on 'Not Set' in the Information box to bring up the list of information. If any information had previously been selected, clicking on it in the Information box will allow you to change your selection. When your information is highlighted in blue, selecting a different piece of Information by clicking on its name will replace the previous selection.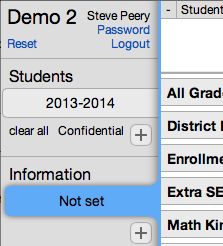 For Entering Data, only one piece of information can be selected.
For viewing data, multiple pieces of information can be selected.
2. Click on the Information (e.g. Report Card Grade 4) to reveal its unit(s) and select the unit you wish to enter data for (e.g. Reading Standards). To remove a selected piece of information, click on the name of a new piece of information you wish to select in its place or remove the check. You can also get rid of it by clicking on the 'x' in the top left of the Information box or using the 'clear all' right below.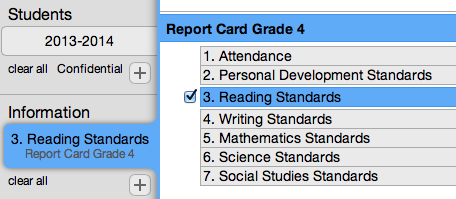 NOTE: The list of information can be lengthy and spread over multiple pages. By default, only the first page will be displayed. At the top, you can adjust the number of entries per page if you like or use the filter bar. The list of information can be filtered by Type, Grade, and/or Subject to narrow down the selection. Use the Clear button on the right of the Subject filter to cancel all filters.
Number of Entries per page


Filter Bar

Multiple Selections