Student Accounts
From VCAT WIKI
Add a student
Before adding a student, it is important to verify if the student already exist in VCAT. The student may have a different ID or spelling of his name, so follow these steps:
• Select All Students

• Click on Student List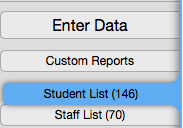 • Go to the filter bar, and type in part of the last name or part of the first name in the Name field.

If the student is listed, click on the Edit button in front of his name.