Student Accounts
From VCAT WIKI
New Student
Before adding a student, it is important to verify that the student doesn't already exist in VCAT to avoid creating duplicates. If the student does exist, you only need to edit his account. If the student is not found, you will need to create a new student account.
Searching for a student
• Select All Students

• Click on Student List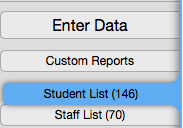 • The student may have a different spelling of his name so typing only part of the last name or part of the first name in the Name or ID field of the filter bar will help working around that.

If the student is listed, click on the Edit button in front of his name to update his account.
Creating a new student
Editing a student
There are three sections in a student account: Information, Sections, and Demographics. You can travel from one section to another by just clicking on the tabs (Information, Sections, Demographics). If you make changes under multiple tabs, you do not need to Save under each one but at least once before exiting that student account. Even though a Delete button is visible, do NOT delete any student yourself. If for some reason a student must be deleted (e.g. duplicate), please contact us at support@vcat.us with the details and we will gladly take care of it for you.
Information
The Local ID, First and Last Name are required fields. The system uses the Year of Graduation to determine what grade level the student is in. The Note field is useful to keep track of any information you may feel is important (e.g. last name prior to adoption, State ID change, date student moved or transferred,...).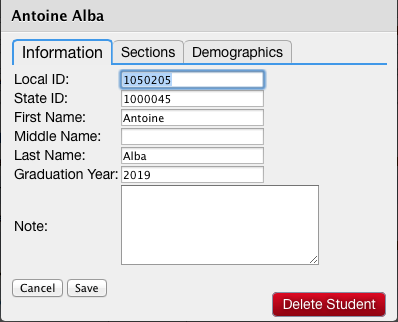 Sections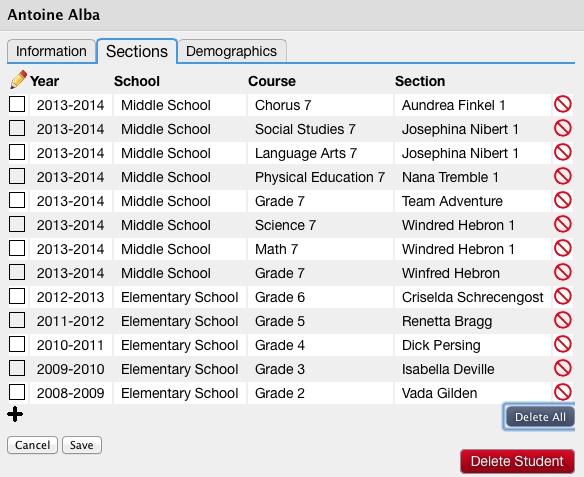 Demographics